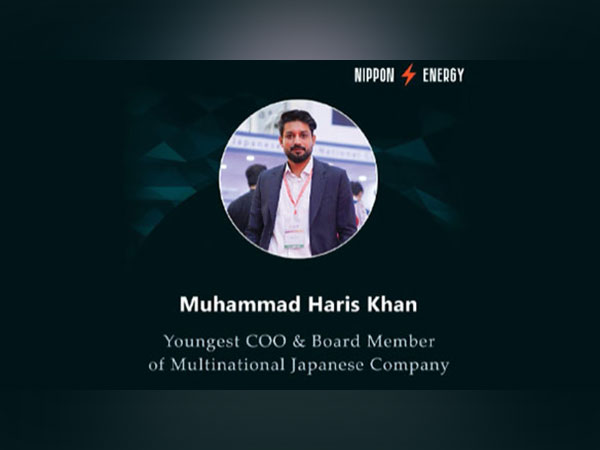 Muhammad Haris Khan becomes Nippon Energy's youngest COO and Board Member
Mar 18, 2023
New Delhi [India], March 18 (ANI/ATK): Nippon Energy, the Japanese solar company that provides financing, engineering, and contracting solutions for various solar projects, has
the promotion of Muhammad Haris Khan to Chief Operating Officer and Board Member.
Muhammad Haris Khan is an experienced professional with over 10 years of experience in the renewable energy industry. He started his journey with Nippon Energy as a Renewable-Hydrogen Expert in January 2018 and worked with the company until September 2019. Afterward, he worked with Engie Middle East as a Techno-Economic Expert and then as a Business Development Manager.
In August 2021, Muhammad Haris Khan rejoined Nippon Energy as the Head of Energy, and later on, he was promoted to Director of Renewable Market EMEA. On 17 March 2023, he was further promoted to Chief Operating Officer and secured a position as a Board Member in Nippon Energy.
This promotion is a recognition of his extensive experience and dedication to the renewable energy industry and his commitment to Nippon Energy. Muhammad Haris Khan's expertise will be instrumental in driving the company's growth and success in the future.


The announcement was made during the "Beyond Future" event held by Nippon Energy on 17 March 2023 at Concorde Tower in Dubai, United Arab Emirates. The event provided an opportunity for the company members and team to discuss their Super Energy Vision and plans for the future.
Nippon Energy aims to encourage more businesses and governments to utilise the benefits of solar energy. With its team of international solar experts, the company provides customised solutions to meet the specific needs of its customers and ensure compliance with regulatory authorities.
Overall, Muhammad Haris Khan's promotion is a testament to Nippon Energy's commitment to recognizing and promoting talented individuals within their organisation. With his extensive experience and dedication to the renewable energy industry, Muhammad Haris Khan is poised to help lead Nippon Energy to greater heights in the future.
This story has been provided by ATK. ANI will not be responsible in any way for the content of this article. (ANI/ATK)