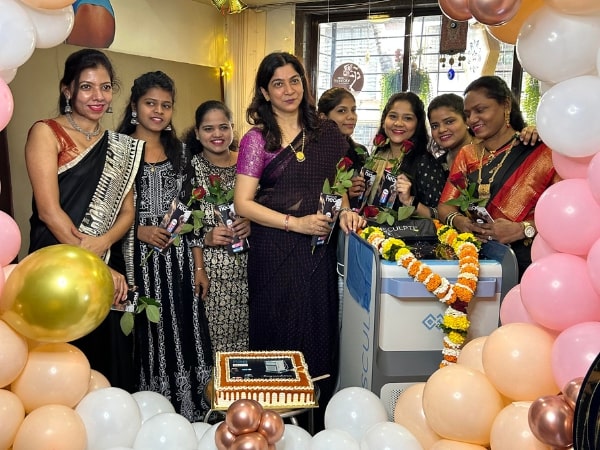 Emscuplt NEO: Dr Kiran Hebbalkar's Andheri-based wellness clinic Kiran's clinic launches a cutting-edge fitness enhancement device
Feb 10, 2023
New Delhi [India], February 10 (ANI/SRV): The well-known clinic for aesthetics and wellness enhancement, Kiran's Clinic, helmed by Dr Kiran Hebbalkar, has recently launched a revolutionary medical device named Emsculpt NEO, also known as the "Medical Gym," for the first time in Andheri, Mumbai. The device launch is part of a robust set of initiatives undertaken by the clinic to touch the lives of its patients through the most recent and effective set of treatments.
For those who have long been keen to unlock the happiness of a healthy body and life, the clinic is set to bring a new solution to their fitness goals. According to research, people lose 3-5 per cent of their muscle fibres every decade, and Emsculpt NEO can help one reverse their ageing process by effectively coping with this loss.
One-of-its-kind, in just 30 minutes, Emsculpt NEO allows patients to heighten their muscle tone, increase muscle definition, and reduce fat simultaneously. For the enthusiasts who want to try their hand at the device, while the duration to reach their fitness goals may vary as per their bodies, they might notice a visible change in their body after 2 or 3 sessions. However, to enjoy the optimum benefits, one is advised to follow a healthy diet and a thorough exercise regime.
According to Dr Kiran, "Emsculpt NEO is the only device on the market that can improve muscle tone, increase muscle definition, and reduce fat simultaneously." Further, urging people to lead a fitness-inclusive life, Dr Kiran added, "Since the inception of Kiran Clinic, we have had a laser-sharp focus on helping our patients achieve their fitness goals." We strongly believe that your health is your biggest investment. Be wise when it comes to your health. So, while the device can enhance your fitness results, the consistency of use and the grit to not eat unhealthily and to exercise have to come from you. "With the discipline in place, the device will help you unlock benefits that will surprise you."


Powering the effective results of the device is the patented HIFEM technology, which involves inducing short bursts of powerful muscle contractions in the targeted area. Additionally, the device activates RF energy, which boosts muscle growth, tone, and definition more than the quanta exercise alone can yield. Further validating the efficiency of the device, several magnetic resonance imaging (MRI) and CT scans have shown 30.8 per cent abdominal fat reduction along with 25 per cent muscle growth.
Emsculpt NEO is set to attract athletes, new mothers, and anyone looking to improve their overall health and fitness.
To know more, please visit:

This story has been provided by SRV. ANI will not be responsible in any way for the content of this article. (ANI/SRV)